Acquired at the Indiecade Meetup by lhall after the coordinates were decoded by rmartins from the braille hidden in the THD23 spectrogram.
At the meetup, lhall was given the choice of either the Mario Amiibo, or the Luigi Amiibo. She chose Luigi.
After scanning the Luigi Amiibo, it led to a pastebin for an email header.
The information found in the email led to access to the Gustav Email.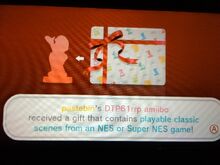 Ad blocker interference detected!
Wikia is a free-to-use site that makes money from advertising. We have a modified experience for viewers using ad blockers

Wikia is not accessible if you've made further modifications. Remove the custom ad blocker rule(s) and the page will load as expected.